By this morning, all signs of the storms had disappeared. Around midday, I spotted another ship on the horizon. How weird to see that ugly thing and not an iceberg! It looked so out of place and messy. Oddly enough, I actually felt that my space had been invaded.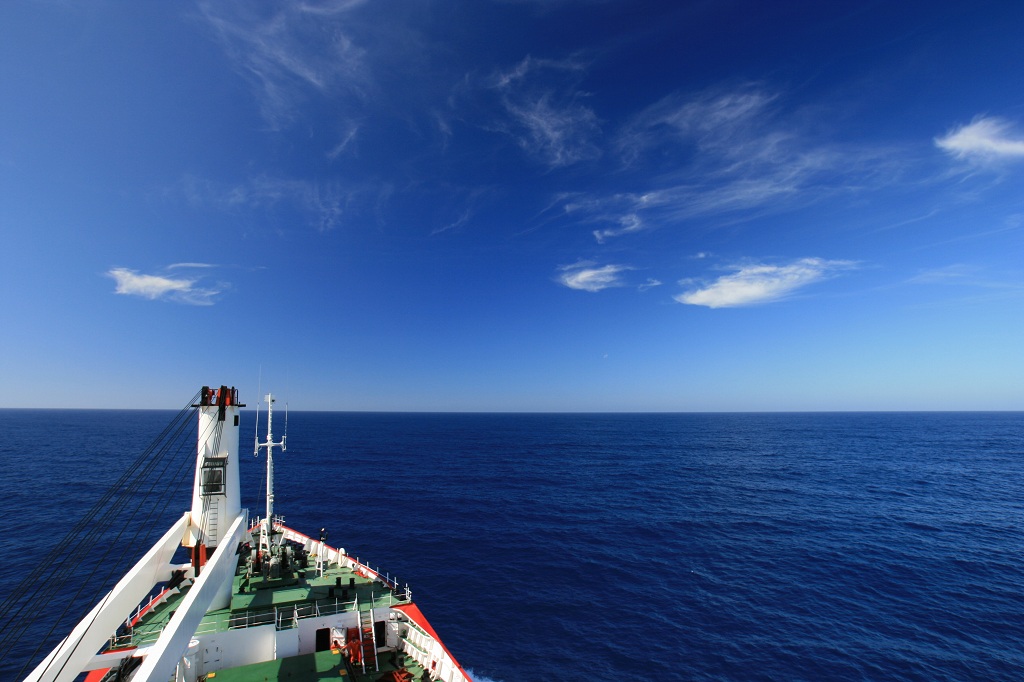 (A perfect day, with the most intensely blue ocean I have ever seen)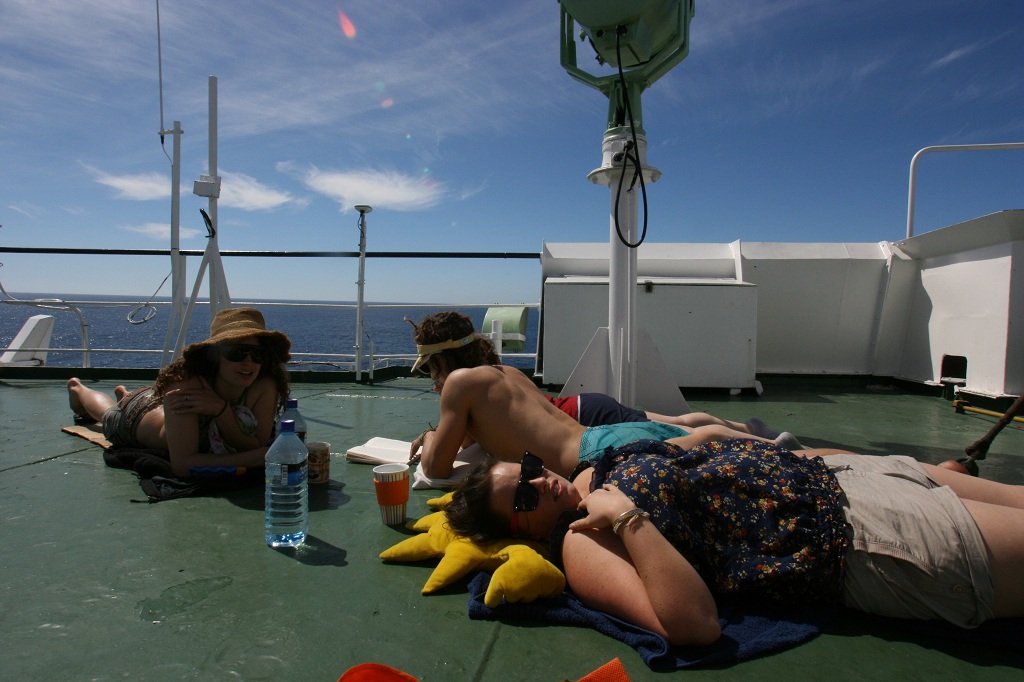 (Soaking up the perfect day on the monkey deck)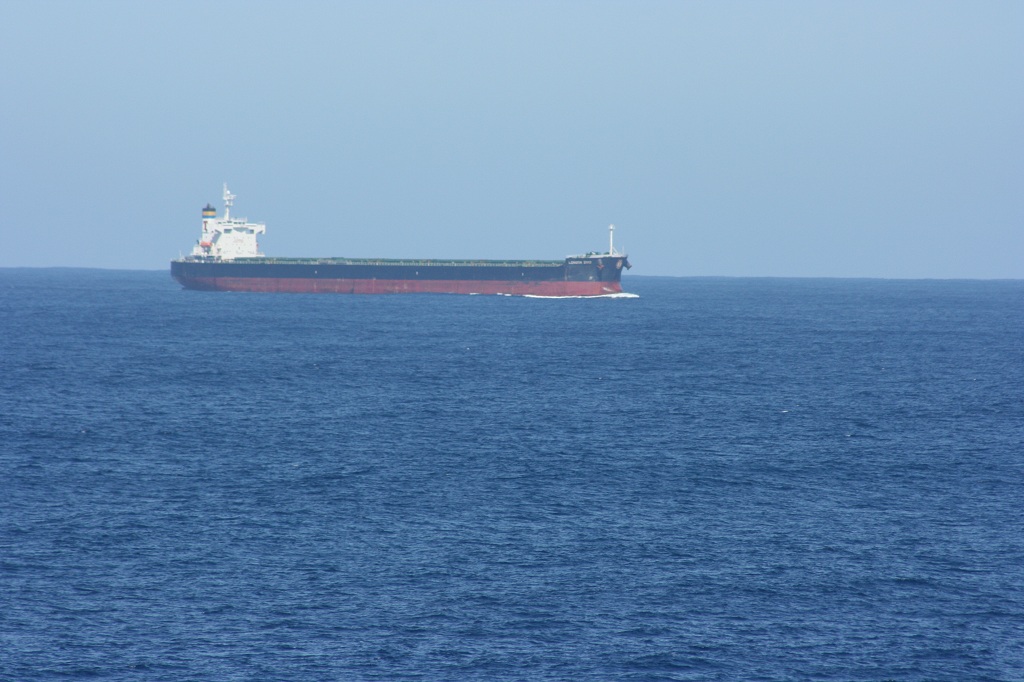 (And then a space invader arrived!)
Beautiful sunshine, barely a breeze, lots of people outside, some sunning themselves on the monkey deck, above the bridge. And then we were treated to a spectacular display by a pod of dolphins, darting inches below the surface and leaping out in unison. Wow! They then split up into smaller groups and porpoised all around the ship, to gasps of delight from the onlookers.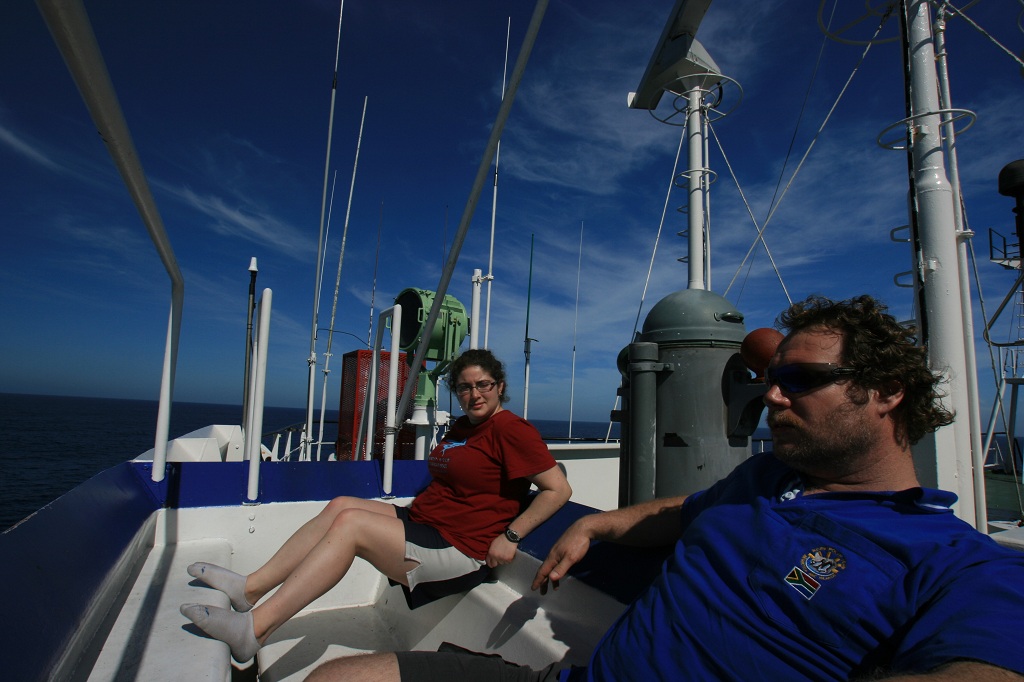 (The 'official' dolphin spotters on duty)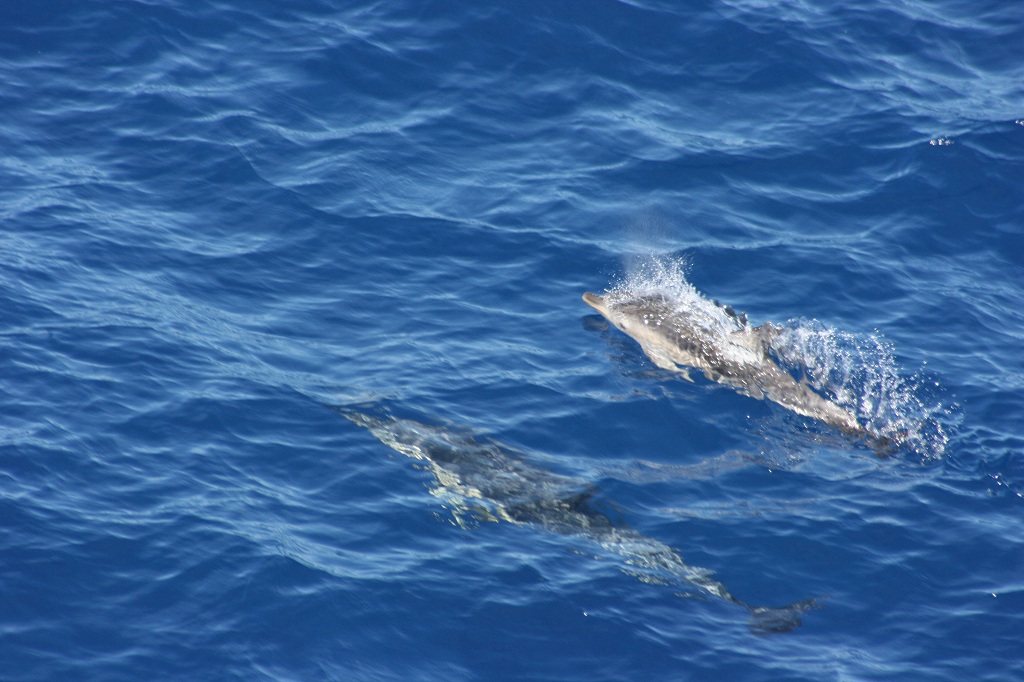 (The entertainers have arrived)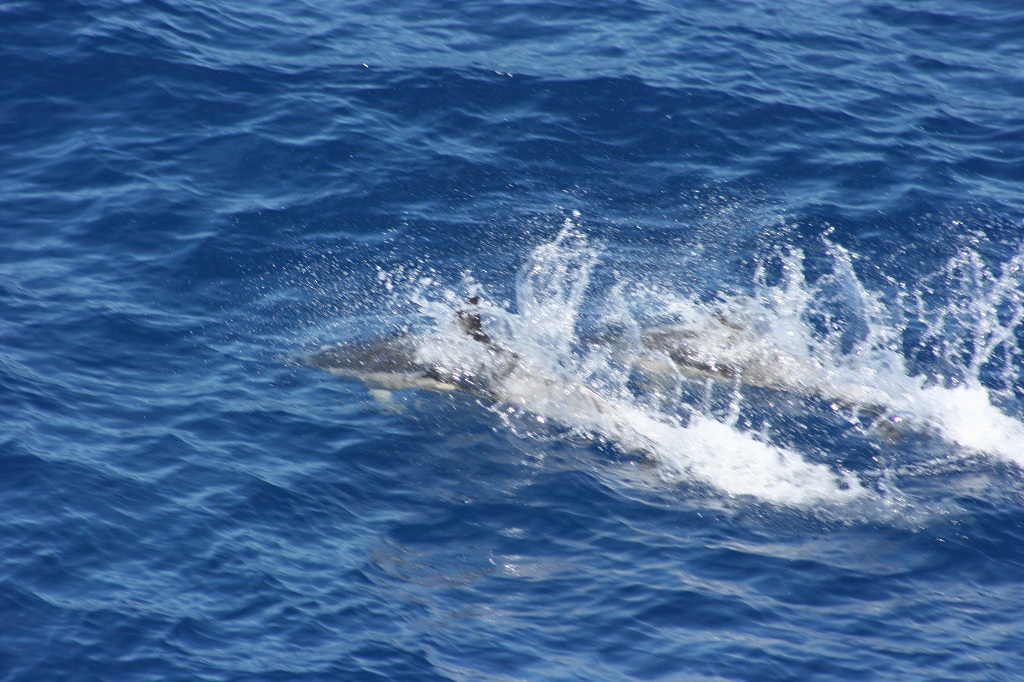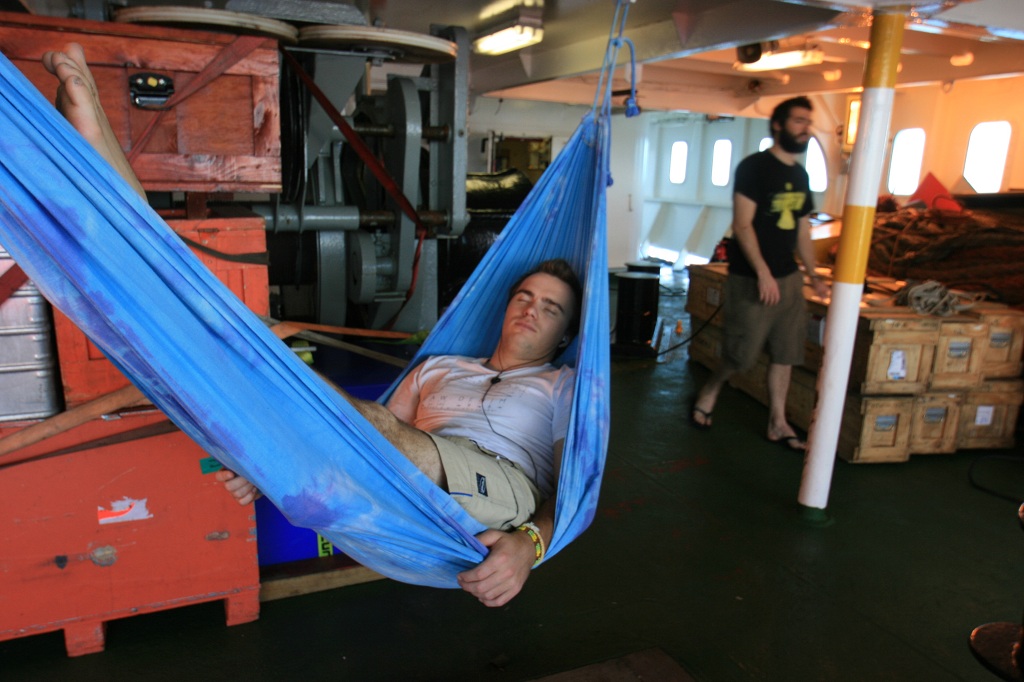 (Some passengers lazed about….)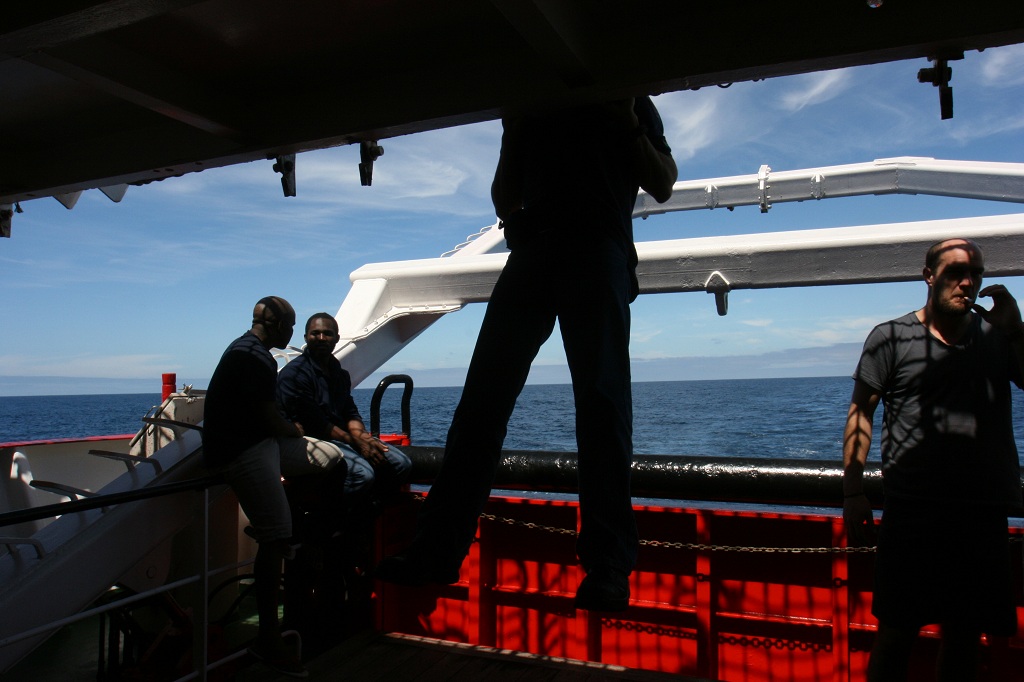 (…some passengers hung about….)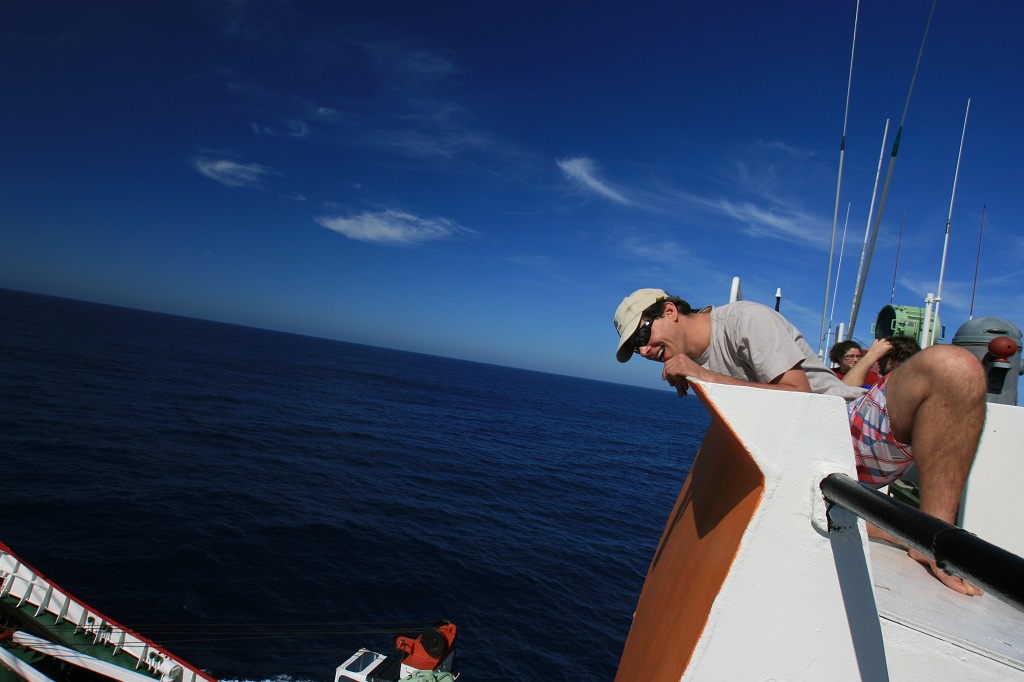 (…and others monkeyed about on the monkey deck)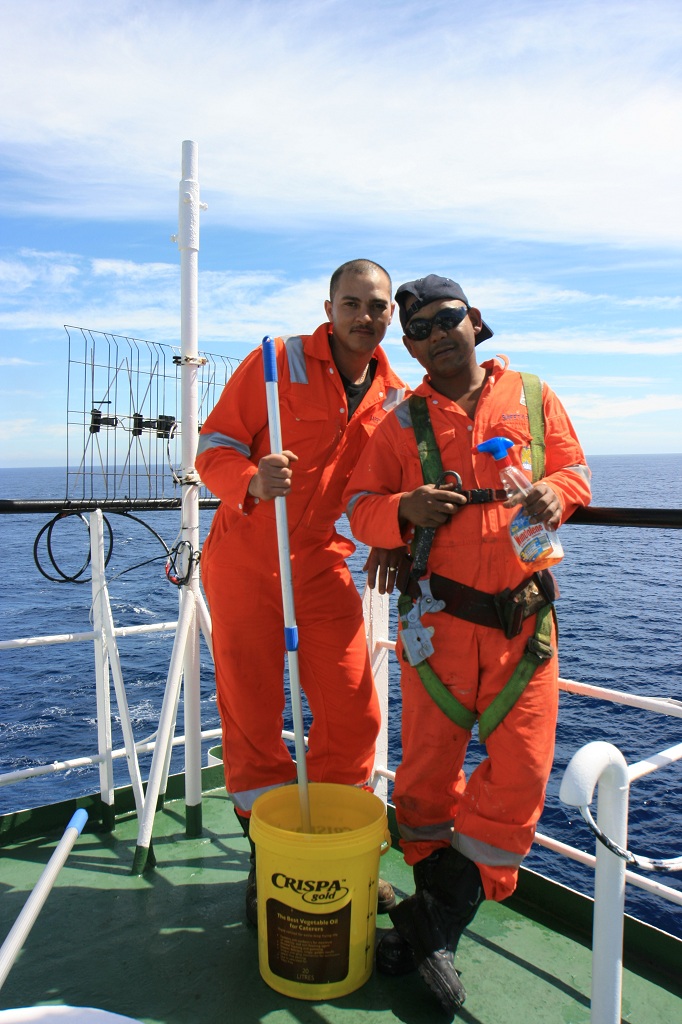 (…while the crew continued with their daily grind out on the decks…)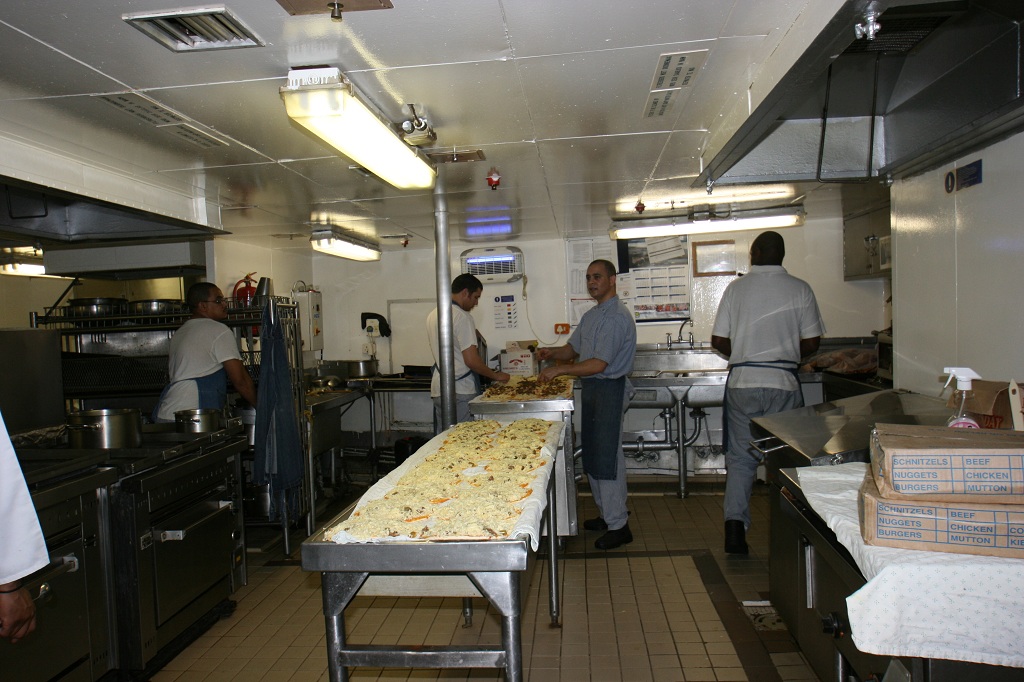 (…and way down below, in the galley.)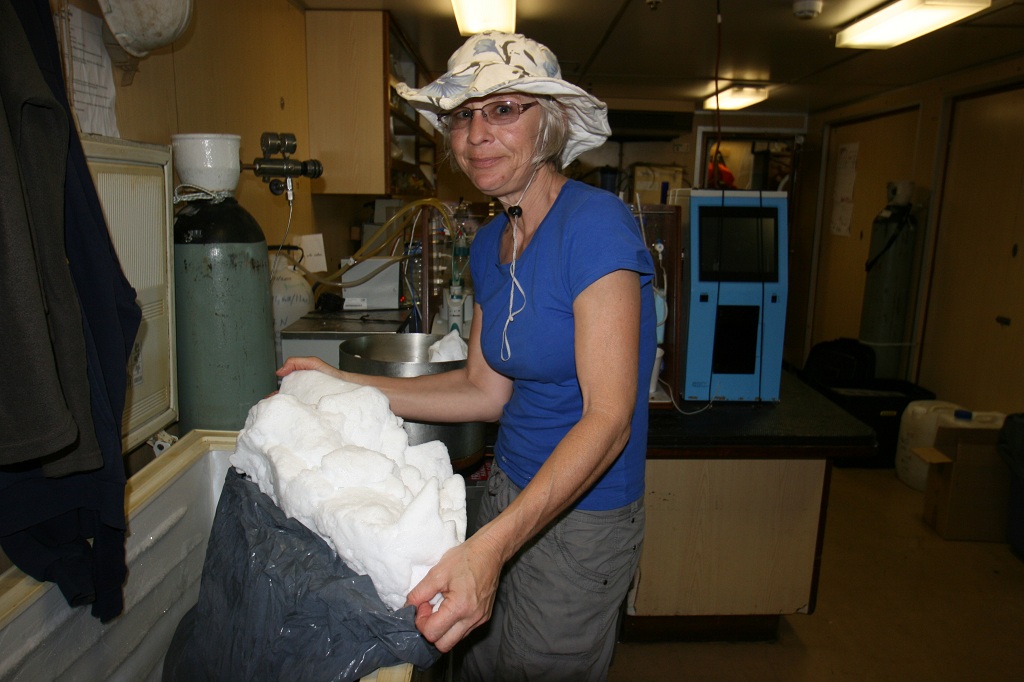 (Meanwhile, I was making plans with the ice I had imported from Antarctica as a gift to my family)
This afternoon I heard someone yell 'Land ahoy!' We could just make out the shape of Table Mountain! Word spread through the ship like wildfire and passengers rushed outside in their hordes to squint at the barely visible landmark. Home - we are almost there! People started saying their farewells as we all know that tomorrow morning, when the ship berths, things will get hectic.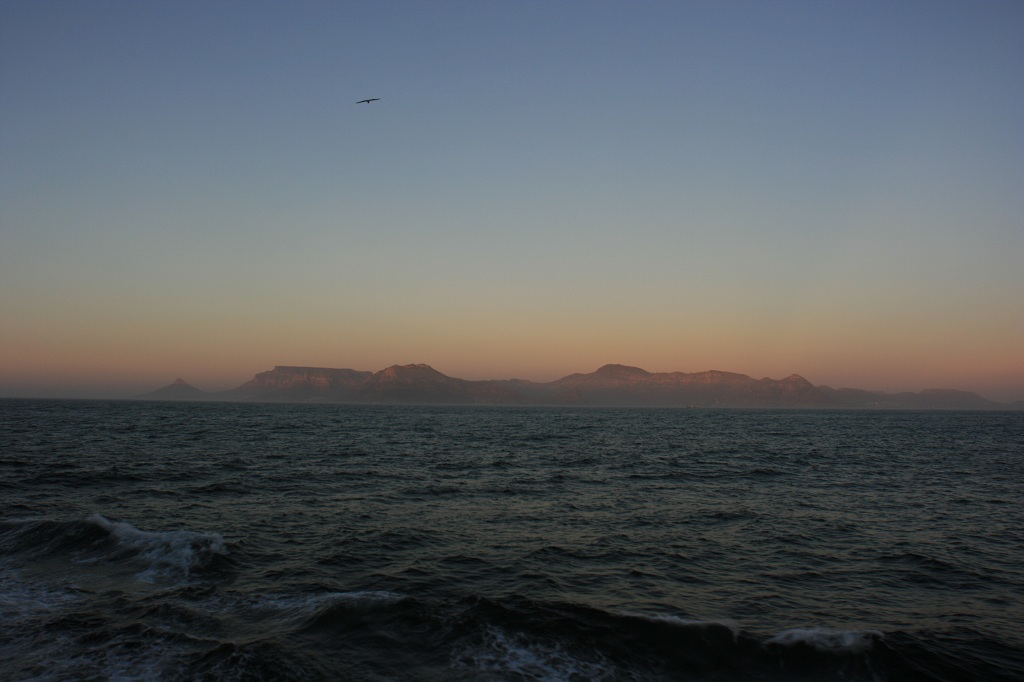 (Land ahoy!!!! Moving closer and closer to the mountain was an awesome feeling, filled with anticipation and excitement)
A few hours after spotting the mountain, we were able to get cell phone reception. What bliss, to be able to have a loooong conversation with one's loved ones! All over the ship's decks people wandered about with one arm glued to their ear, yakking away.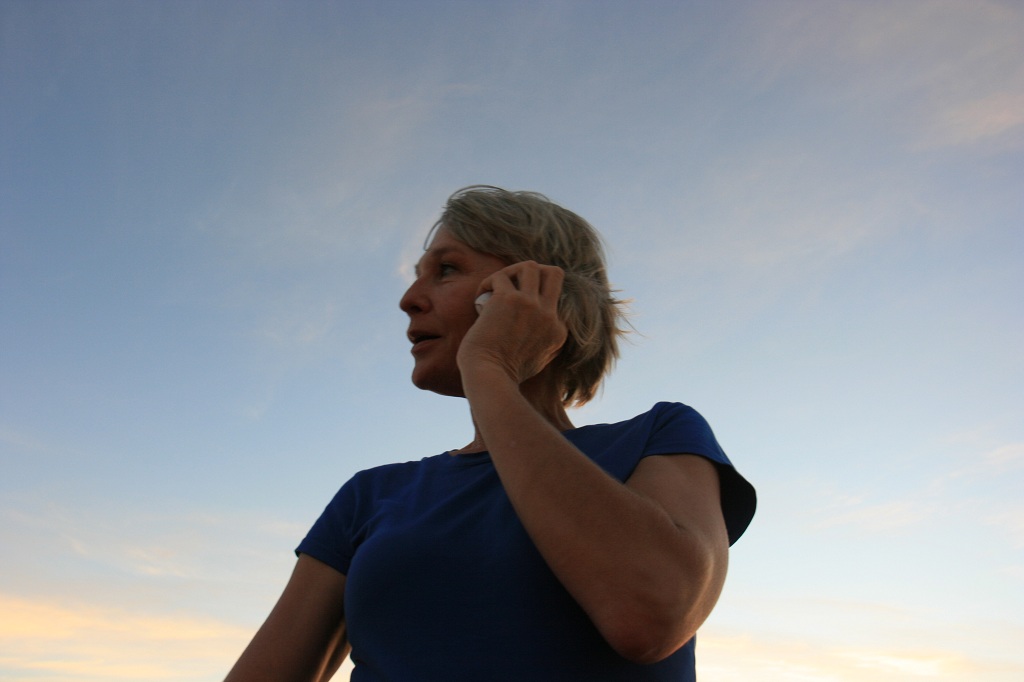 (My first call home!)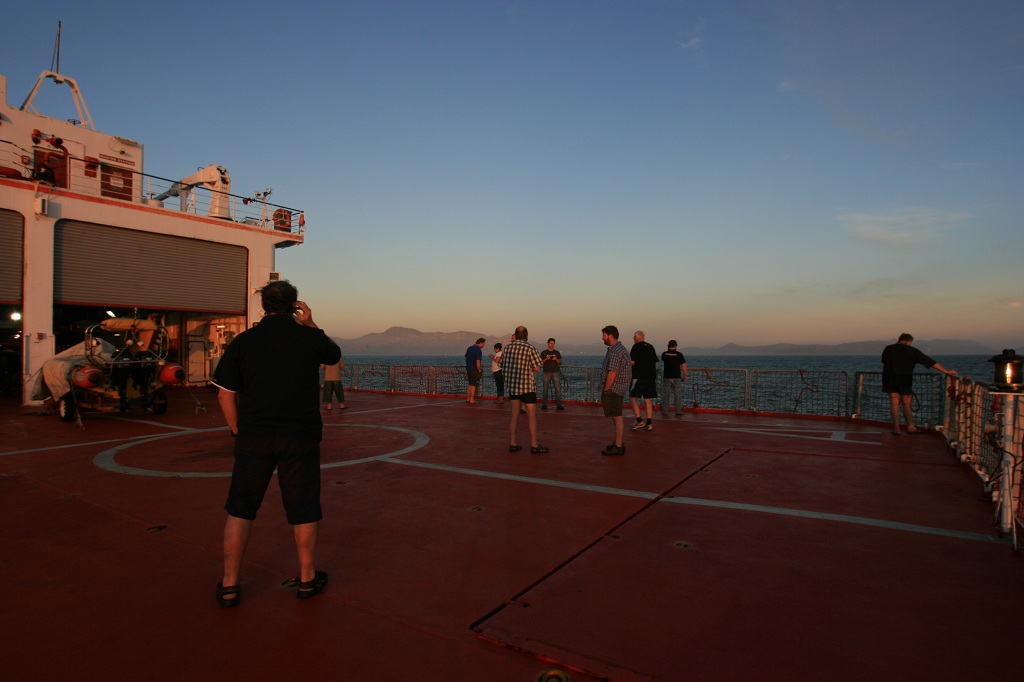 (The heli-deck, or 'cell phone paradise')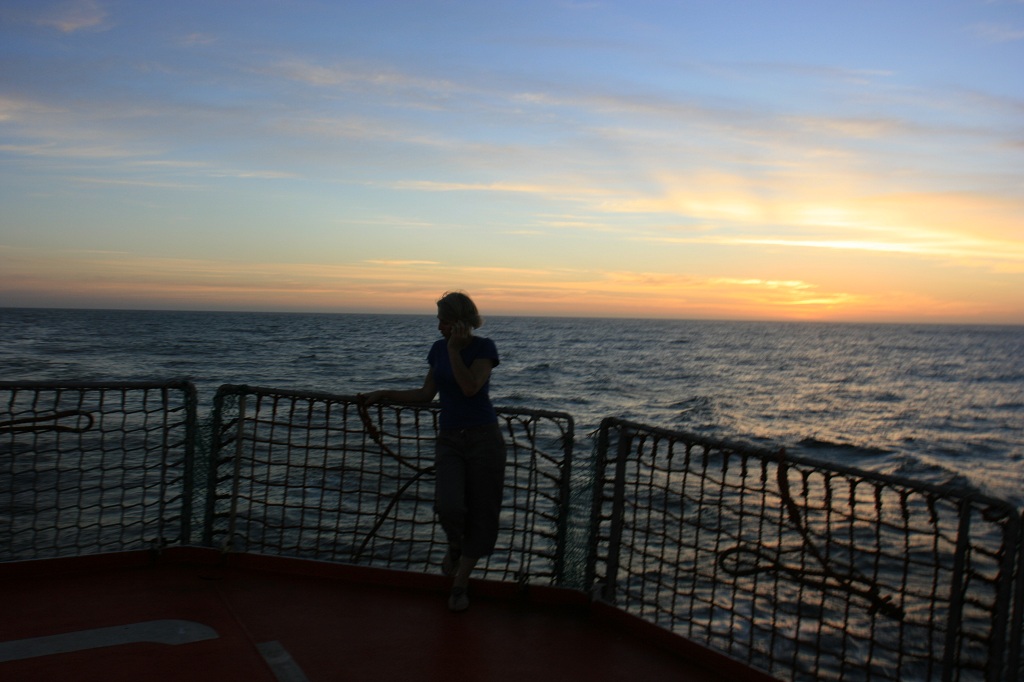 (The sun has almost set, but who needs light for yakking? That was the longest call home ever!)
All the while, Table Mountain was getting bigger and bigger. The ship proceeded to her allocated spot near the harbor where we would lay anchor for the night, before heading into the harbor with a tug boat early tomorrow morning. What a spellbinding view of Table Mountain and the coastline! Darkness fell and the landscape was transformed into millions of tiny lights, like glowing embers in a fire.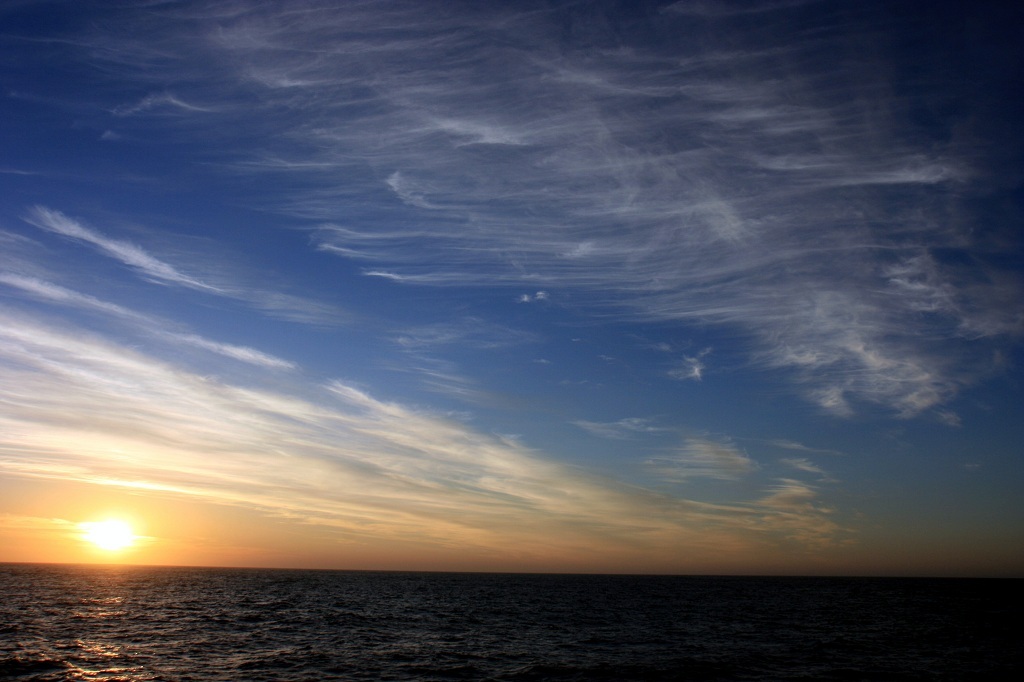 (Our last and exquisite sunset on the SA Agulhas, just outside Cape Town harbour)
Back to the future….
…Civilization.
And we are almost touching it again. The thought was followed by an involuntary shudder.
After three months in some of the most pristine and isolated places on earth, I wondered what it would be like to once again, see the evidence of man's 'progress' on this earth. The vehicles, roads, noise, smog, litter, colours, buildings, landscaped gardens, crowds. Not to mention the high speed at which we conduct our lives.
"Roll on, thou deep and dark blue Ocean –roll!
Ten thousand fleets sweep over thee in vain;
Man marks the earth with ruin – his control
Stops with the shore."
(Lord Byron, 1788 – 1824. Yes, yonks ago!)
Then I started wondering how it would feel to step off the Little Red Boat for the last time? I was jolted by the realization that once again, she had become part of me. By now, to a large extent, my internal rhythm was dictated by hers and it was all about to come to a sudden end. How does one say farewell to a ship? Memories of my first voyage on this ship in December 1986 mingled freely with memories of this voyage. It seemed that time was irrelevant. The only important thing was the connection between me and her. There was a sense of having completed the circle.
Feeling overwhelmed, I walked her decks, up the steps, around and down…soaking in the detail of her lines, sights and sounds for one last time…remembering how safe I had always felt aboard her, even in the worst of storms, such as the ones we braved in 1986. Indeed, I was not the only one who felt a deep sense of nostalgia and loss. I know of some big, strong men who have sailed on her dozens of times, who shed a few furtive tears at the end of this last Antarctic voyage of their trusted and well-loved ship, the SA Agulhas.