The weather is still great. Radio 702 called from Johannesburg early morning and said they wanted to do a live interview with me over the telephone, at 11h00 GMT. They called back and asked me to hold on while the news was read, so that they could cue me. How weird was that? There I was in Antarctica, listening to the news broadcast in Johannesburg, over the phone, two hours later than the time I was on! The interview ended at 11h25.
We were informed at 11h35 that we (Hanlie, me, Lood the cameraman, Paul, the SANAE 50 team leader and Maruma, a meteorologist) had to be ready to board the chopper to fly to the ship at 12h00, and not at 14h00 as had been the plan up till then. Thus the mad rush commenced. Packing, running here, there and everywhere, to sort out last minute things and to try and email as many photos as possible for the blog site. Dressed in full kit, we boarded. What a wonderful flight - being able to gaze at that vast expanse of white to my heart's content. Here and there were mountains, crevasses and blue ice that looked like ponds of water. At one point we came over the tracks left in the snow by the Cat Train!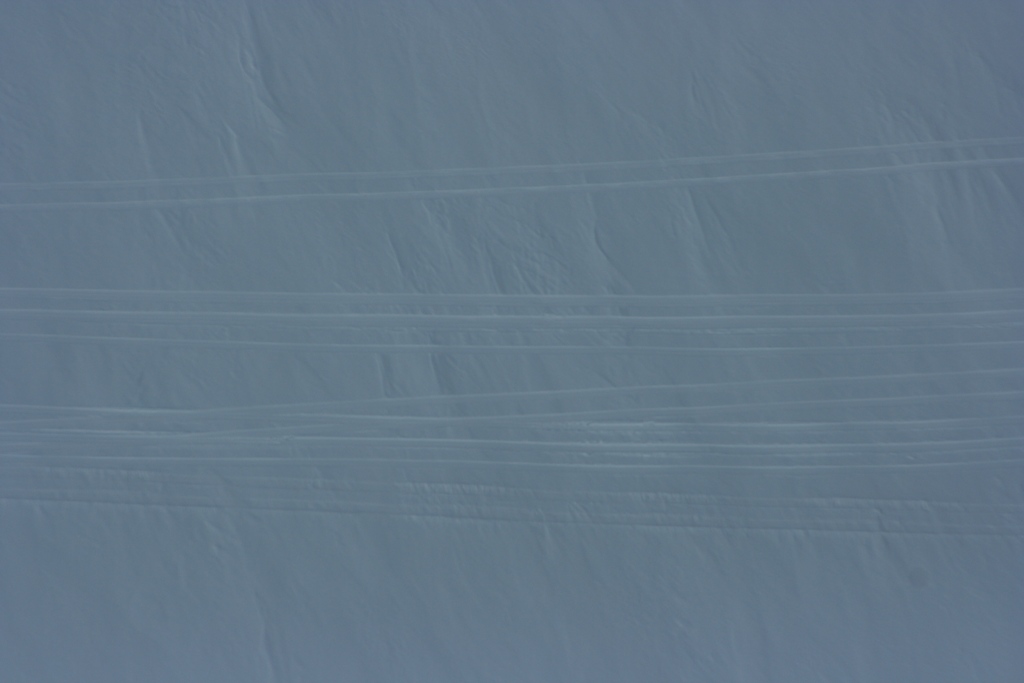 (Cat Train tracks between SANAE and Penguin Bukta, as seen from chopper at 1000m altitude)
When we landed on the helicopter deck of the Little Red Boat, I involuntarily said, "Ah, we are home". The chopper had to fly a few more sorties to offload some cargo and would then return to SANAE where it would remain for the next 25 days, while the ship sailed to South Georgia before returning to Penguin Bukta to load the old SANAE team and all the other people who would sail back to SA.
I put the luggage that I had brought back from SANAE far away from the luggage that had to fly with new passengers to SANAE. While the sorties were being flown, I sat down in the hangar to try and finish something that I wanted to send back to SANAE by chopper. And then it happened. Disaster crept up quietly from behind and dealt me a heavy blow: unbeknownst to me, somebody took my luggage (with all the gear I had taken to SANAE) and loaded it BACK onto the chopper, to fly BACK to SANAE. Meanwhile, my laptop had developed a keyboard issue and my only memory stick had picked up a virus.
Huh? What is going on here?
Soon, the passengers boarded the chopper. We all gaily waved goodbye and then the chopper took off for SANAE, for the last time, until 25 January.
The sunlight was filtering through mist and clouds. The light was incredibly beautiful and turned the entire landscape into a breathtaking scene. I whipped out my camera and started snapping away, not knowing where to look first!
Within about 15 minutes, the mist had overwhelmed everything and I could barely make out the bow of the ship. The temperature dropped quickly. I turned to take my luggage to my cabin. All I saw was an empty spot where once my bag had been. My heart pounded in my ears. Running, searching, running, searching, looking all over inside the ship, in case someone had carried it in. Then I had to face the unbelievable: that my bag had been flown to SANAE for a summer vacation, without me. I thought my head would burst. There were things I needed in there, the most critical being chargers for assorted cameras. Not to mention pages of notes of interviews I had done along the way. I screamed a scream for King Neptune to hear, 3 degrees of longitude from here. And then I cried.
With my red eyes, I woefully walked around the ship asking everyone if they might have a charger that I could borrow for my videocam. Everyone tried to help in some way. By the time I had asked 99% of the staff and passengers without any luck, I gave up hope and accepted the fact: No charger on this Little Red Boat. And that was the end of that.
The ship departed to on her voyage to South Georgia. The water was mostly clear of ice and very calm. The slight swaying motion seemed to soothe my bruised soul a little.
Five hours later, we were at dinner. I was miserable. The first engineer, Derek, came over to our table and calmly told me that he owned a Sony videocam and that we could check if his charger could be used on my videocam. SAY WHAAAT? My ears could not believe what they had just heard: that there even existed such a blissful possibility! He fetched it. I tried it. It works. Now I believe in miracles again. All I can say is this: never disregard the last one percent. It might be the most important of the preceding 99%!
Later, we entered very thick pack ice, sporting all sorts of shapes and sizes. I spent hours outside as the light changed and the landscape went from beautiful to indescribably beautiful. Whenever I became totally frozen, I went into the bridge to warm up. And then out again. What a wondrous place this is.