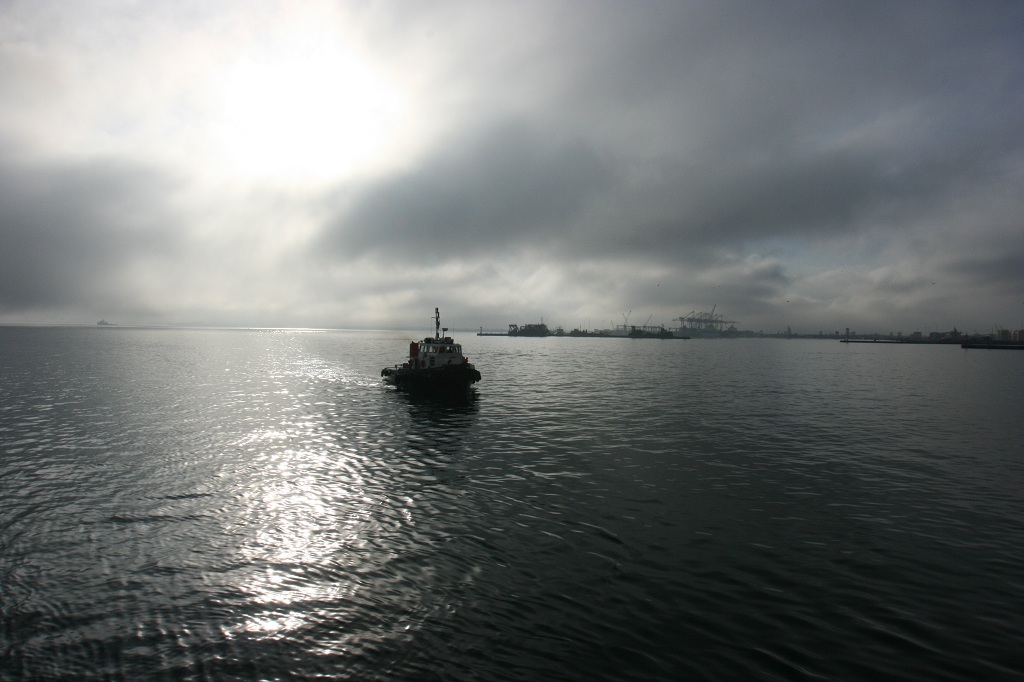 (Early morning mist, slowly lifting as we near the harbour)
Shouts of excitement bounced back and forth across the water as the Little Red Boat entered the harbour and rounded the first corner of the quay. Passengers milled about outside on the decks, craning their necks to search for their families and friends, already gathered on the quay for our long-awaited arrival.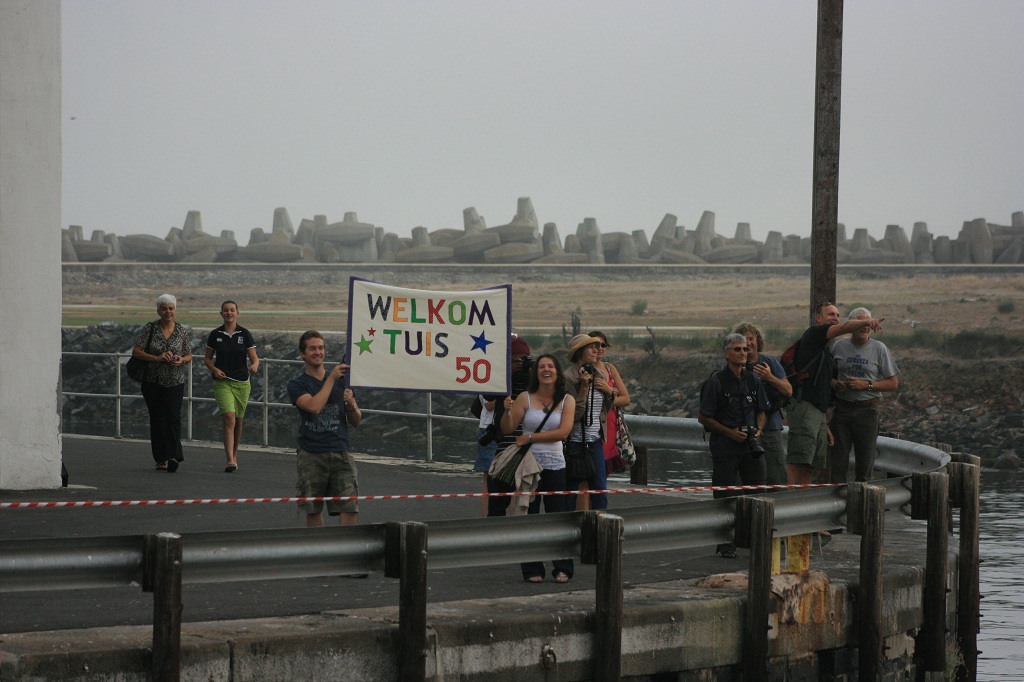 (As we rounded the first corner of the quay…)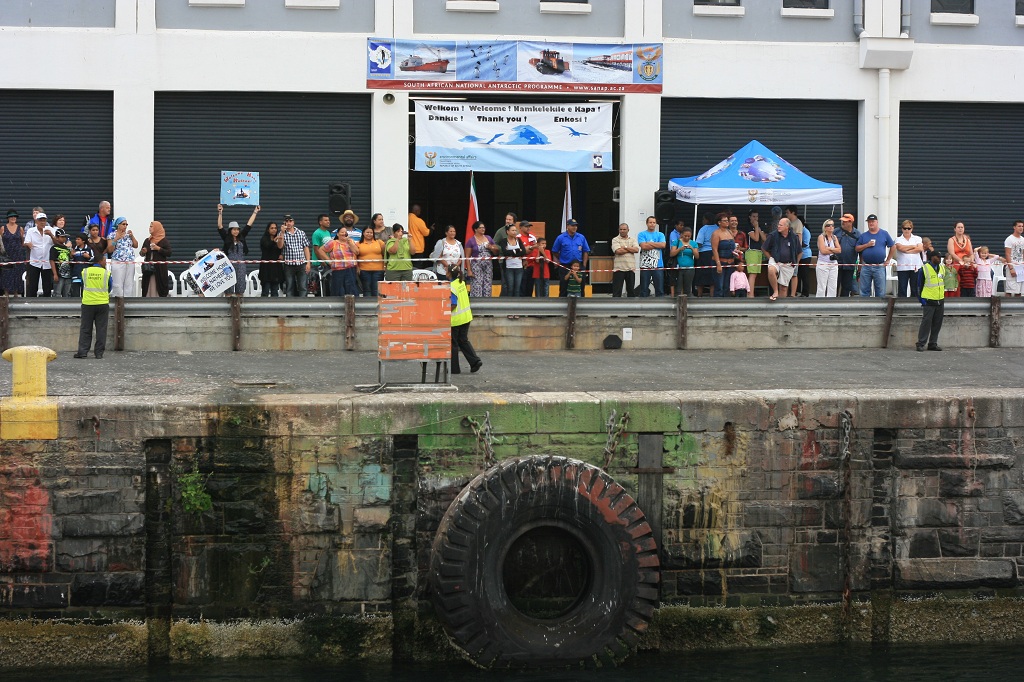 (Almost there!)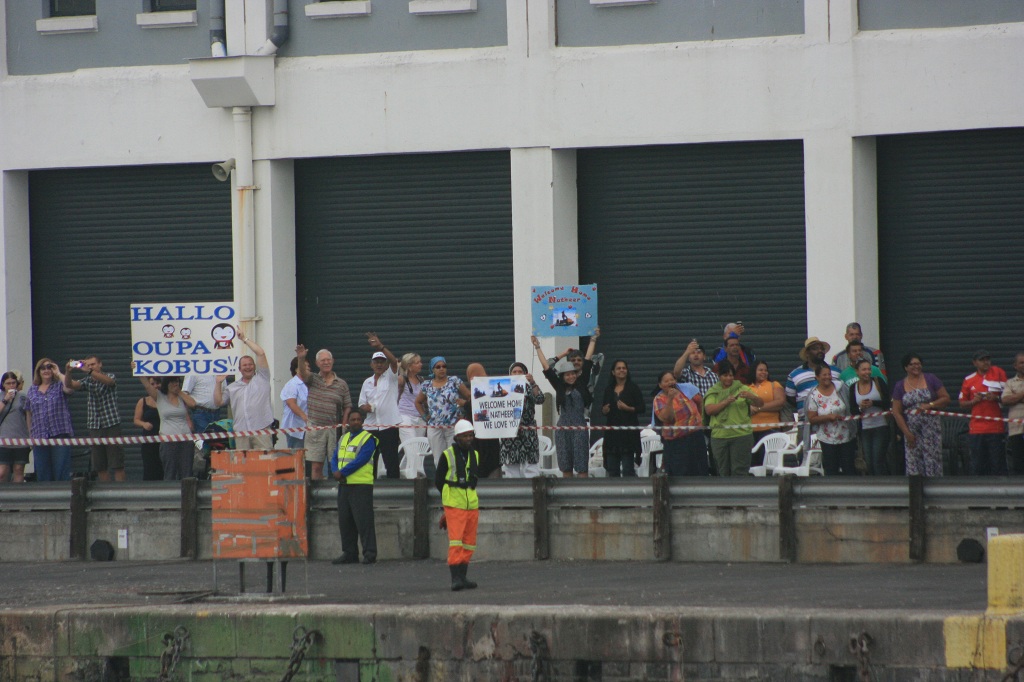 (During their absence, Koos had become Oupa (Grandfather) and Dennis had become a father)
Slowly, painstakingly slowly, we moved closer until we could clearly see the expectant faces of those waiting on the quay. The "Welcome home" posters held aloft lent a festive atmosphere, along with the live music that we could hear clearly by now. Then I spotted my husband and two children in the crowd. My heart skipped numerous beats and instantly, there was a lump the size of an apple in my throat. Tears of joy flowed freely down my face! I had not expected them to fly down to Cape Town again. But boy, was I delighted to see them!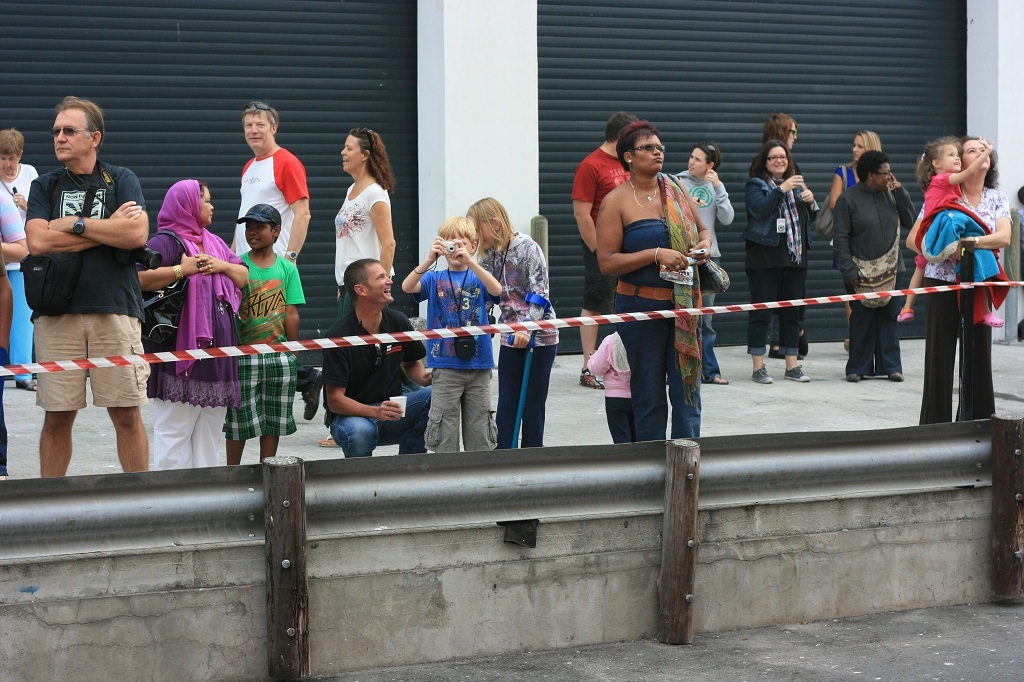 (And then I spotted them! What I did not realise at the time, was that the man with the folded arms was from the SANAE 27 overwintering team who had been with me on the ship in 1987)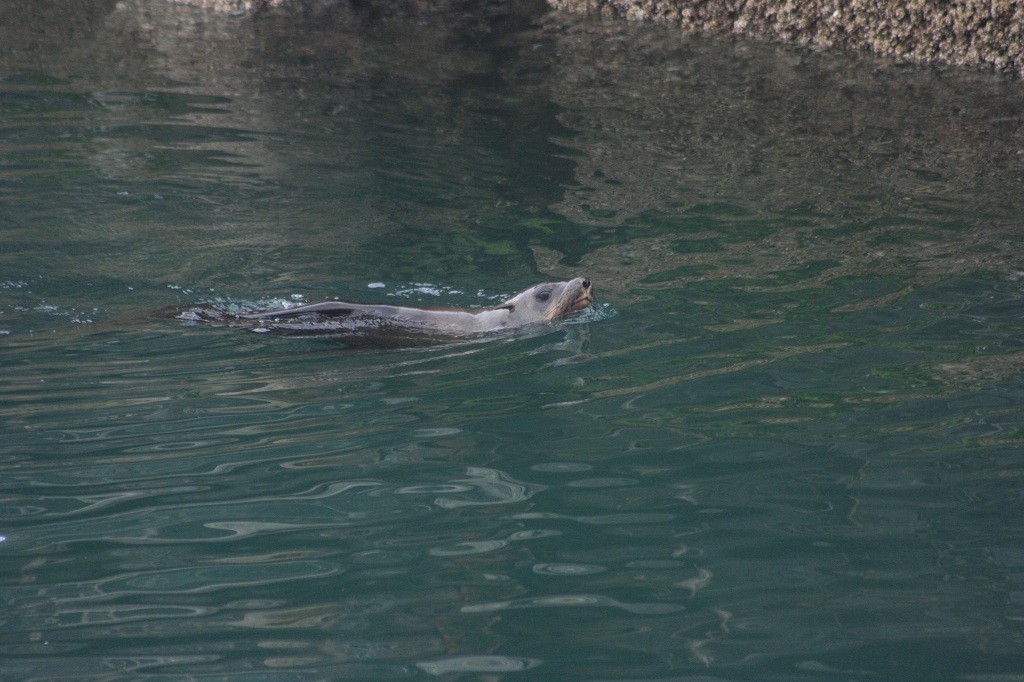 (Hey, what's all this commotion about?)
We berthed and then the customs officials came aboard. The SANAE 50 team, who had been away from home for about 14 months, was permitted to leave the ship first, in order to participate in the official welcoming ceremony, led by Henry Valentine from the Department of Environmental Affairs. The rest of us waited patiently for our passports to be stamped and for permission to disembark. Then the frenetic activity started, everyone in a rush to be somewhere else, squashing past each other in the narrow corridors of the ship to get their luggage offloaded. In between, lots of final goodbye hugs… One passenger rushed ashore to propose to his girlfriend, who almost passed out from surprise - and I am sure, delight!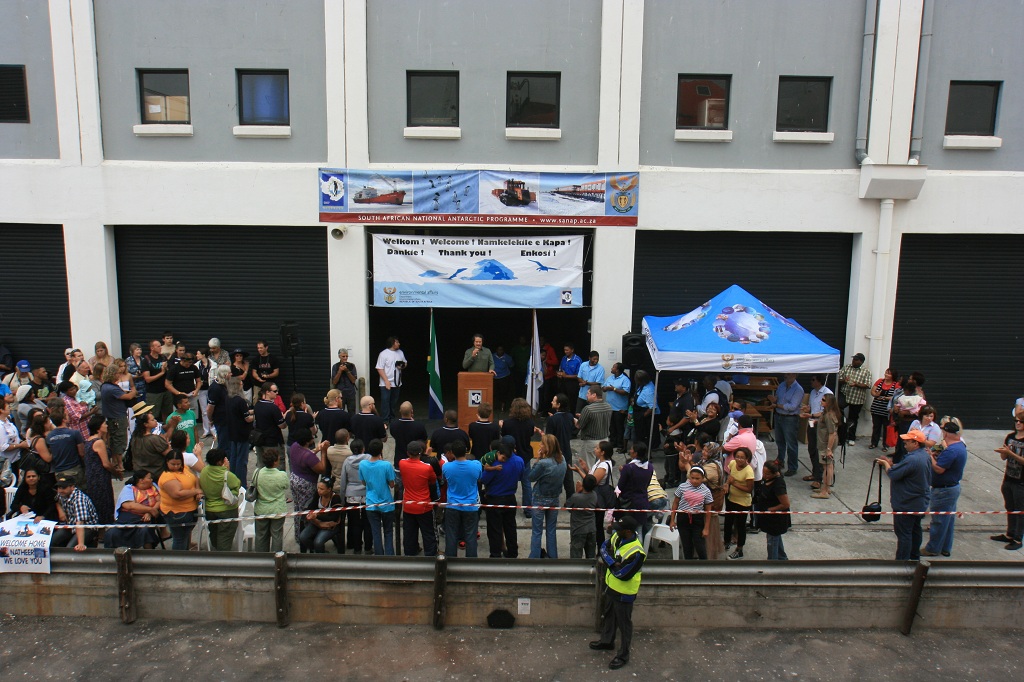 (The SANAE 50 team, in black T-shirts, lined up in front of the podium during their welcoming ceremony, conducted by Henry Valentine)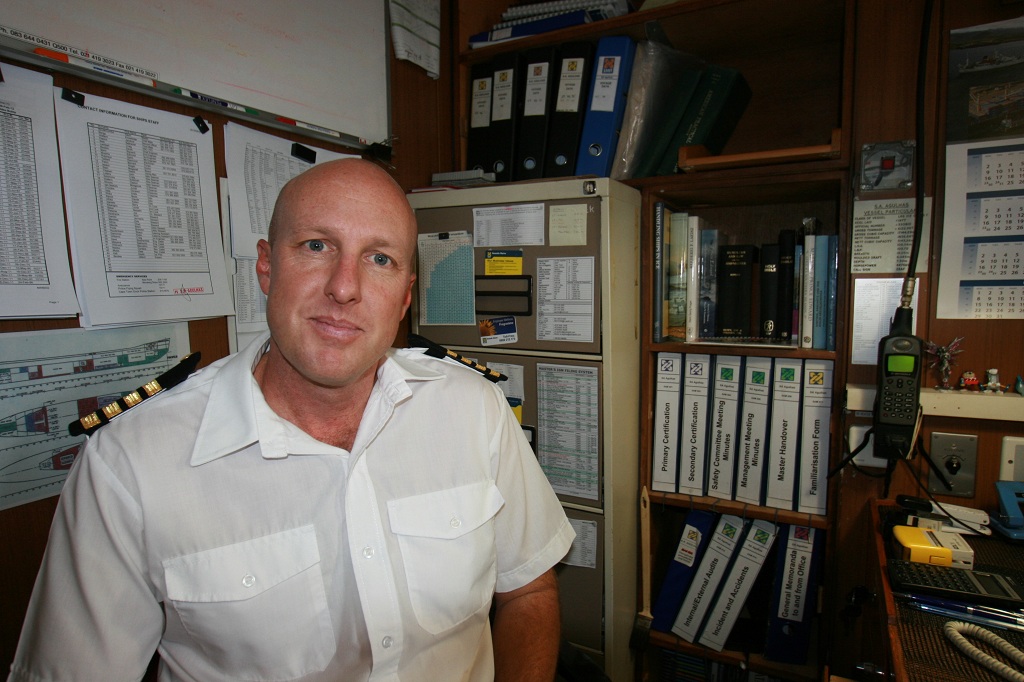 (Master of the ship, Captain Gavin Syndercombe, after 'parking' the ship in the harbour)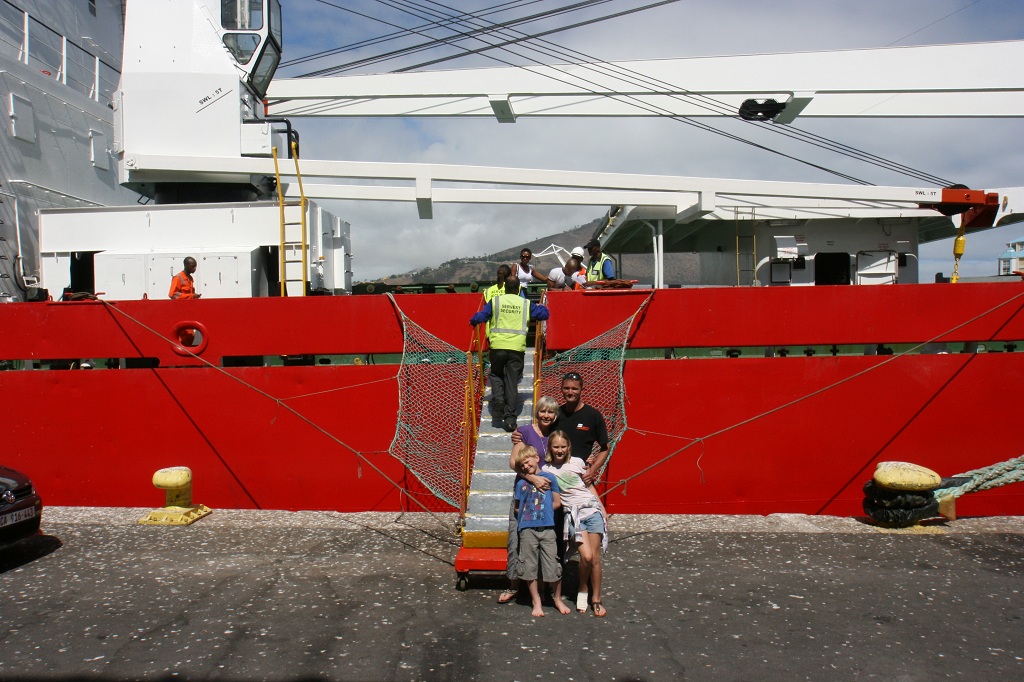 (The four of us, reunited and thoroughly delighted!)
There's more to follow, don't go away!